June 25, 2018
Pixar Pier opened at Disney California Adventure this past Saturday, giving Paradise Pier a new theme and a new name.
This inspired me to create this timeline showing the evolution of lands at DCA since its opening.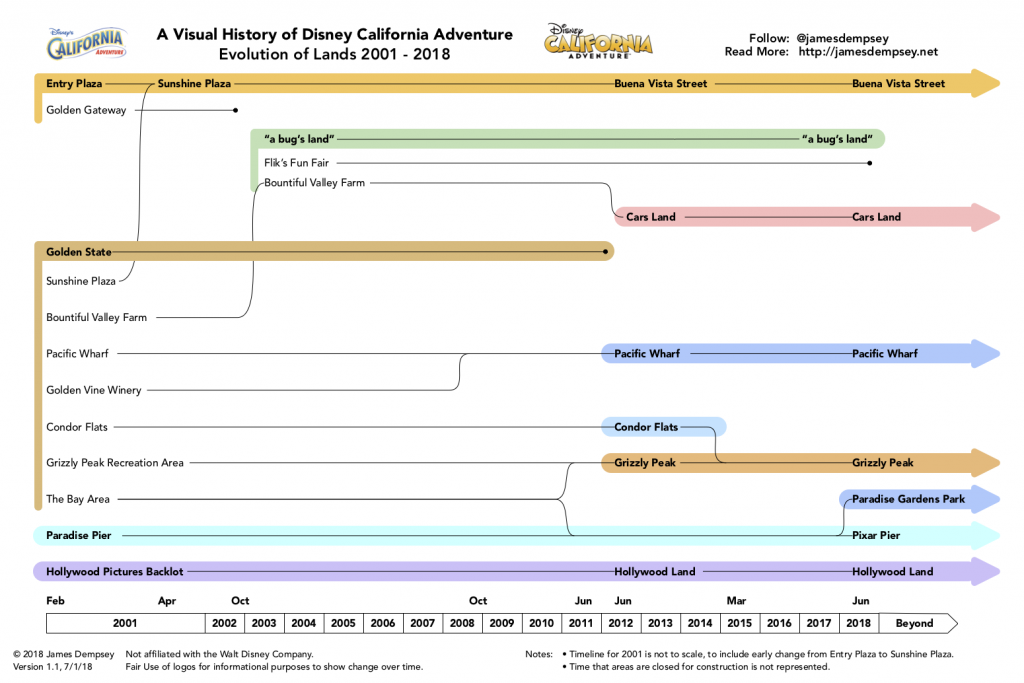 With the renaming of Paradise Pier, none of the opening day lands of Disney California Adventure remain.
This does not mean that all attractions, buildings, or theming of the original lands have been replaced. It means that every land existing on opening day has at least been renamed, with many rethemed, and some reassigned to other lands.
On opening day, DCA guide maps listed four lands: Entry Plaza1, Hollywood Pictures Backlot, Golden State, and Paradise Pier. These are all now gone.
Golden State was divided into areas, mini-lands within a big land: Grizzly Peak Recreation Area, Condor Flats, The Bay Area, Pacific Wharf, and Golden Vine Winery. These were not full lands when the park opened. Over time, some areas have disappeared as separate areas (The Bay Area, Golden Vine Winery), while others have become lands of their own (Grizzly Peak, Pacific Wharf), and one area even managed to do both (Condor Flats).2
I believe DCA is the only Disney park that has replaced or renamed all of its opening day lands.3
Research for the timeline was done using my collection of guide maps from the park as well as online announcements or news articles of land and attraction openings and closings. Please feel free to send me any feedback or corrections at https://jamesdempsey.net/contact.
Also feel free to contact me at https://jamesdempsey.net/contact if you have guide maps from the early years of DCA that you are willing to sell – or send photos of. I am particularly trying to find DCA maps between late February and late May 2001 to pinpoint the change from Entry Plaza to Sunshine Plaza.
I've enjoyed witnessing the transformation of Disney California Adventure over its seventeen year history and hope you enjoy this visual history of its lands. •
About me: I'm a Disney, Pixar, and Apple history hobbyist. I worked at Apple for fifteen years then set out on my own as a software developer, technical trainer, speaker, and musician. I write humorous songs about technical things. My album debuted at #5 on the Billboard comedy album charts and was the #1 comedy album on iTunes in the US, UK, and Canada. If you or someone you know (or someone in Disney Imagineering) needs an original song with clever lyrics contact me!
---
1 Yes, Entry Plaza. The opening day DCA guide maps use this name. Within months, the name on the maps changed to Sunshine Plaza. ⏎
2 Golden Vine Winery is a good example an area which is still very similar to opening day, but has technically 'disappeared'. This was originally an area, or sub-land, of Golden State. When the Seasons of the Vine attraction closed and became reopened as Walt Disney Imagineering Blue Sky Cellar, the reopened attraction was now listed as part of Pacific Wharf, where it remains as of 2018. ⏎
3 Pacific Wharf is the only remaining original land or area that has not been renamed. But it was not a land on opening day, it began as an area of Golden State and was not promoted to a full land until 2012. Grizzly Peak Recreation Area was renamed to the much simpler Grizzly Peak when it also became a full land in 2012.⏎
---
Category: Disney