A Kid in the June 2019 Candy Store
June 21, 2019
June 2019 has me feeling like a kid in a candy store.
I'm remarkably excited by the variety of things that are catching my interest and attention this month—so much so that I'm finding it difficult to decide what to do next.
A large part of that is due to all of the announcements at WWDC—but that is not all.
The Monday after WWDC, I wrote about an app I want to create that might be easier to build due to new technologies introduced at WWDC. Foremost among them was SwiftUI which I have really enjoyed digging into.
My week following the developer conference was a flurry of watching session videos and digging into things. But WWDC was not the only thing going on in the world in a few weeks back. On May 31st, Star Wars: Galaxy's Edge opened at Disneyland.
Star Wars: Galaxy's Edge
As a big Disneyland and Star Wars fan, had it been any other time of year, I would have tried to be there opening weekend. However, just days before WWDC, with a big LIVE near WWDC show to rehearse and prepare for, there was no way I could make it down to Anaheim.
I didn't have to wait long though. Last weekend I had the chance to visit Galaxy's Edge at Disneyland. I feel like they've done an amazing job of creating a place that feels very much a part of the Star Wars universe, even though it a brand new location not depicted in any of the movies. My inner nine-year old found it very satisfying to fly the Millennium Falcon, build my own lightsaber, and yes, drink some blue milk.
Combine Framework and Foundation
On Monday I headed home from Disneyland as Beta 2 dropped for Xcode 11, iOS 13, macOS 10.15, and all the rest.
The new beta includes Combine framework support for Foundation classes. So, it just became possible to write code to explore the same sort of data publishing pipelines that were presented in the Combine sessions at WWDC. This includes publishing notifications, properties, and timers.
So, another whole aisle of candy just opened up and I've spent most of the week catching up from my trip, rewatching Combine videos from WWDC, and playing around with Combine code.
So far, I am feeling the same sort of enjoyment in writing Combine code as I have had writing SwiftUI code. The main area of frustration I am finding with Combine is that the session videos are the primary place to see Combine sample code. (If I am missing a trove of Combine sample code from Apple – please let me know on Micro.blog or Twitter!) So, I'm finding that anything not covered in those sessions takes bit of trial and error to figure out.
Along the same lines, the code in the sessions often show the path from publisher through operators to subscriber, but don't necessarily talk about who should be holding onto the publisher or the cancelable item returned from the subscriber, or exactly when it makes sense to set them up. It would be great to see more Combine framework sample code from Apple showing it in integrated into an app project, especially traditional UIKit and AppKit apps.
Toy Story 4, Forky, and WALT
Today I put the Combine framework aside for a few hours to go see Toy Story 4. Every time Pixar announces a sequel I worry that this is the one where they will jump the shark in the franchise. I am very happy to say that I really enjoyed Toy Story 4. I found Forky to be absolutely delightful!
If you know me for any length of time, you will soon discover that I am a big fan of Disney and Pixar animation.
The first iOS app I wrote is WALT: Watched Animation List Tracker. It's not a commercial success by any means, but it's an something I wanted to have in the world. It lists over 650 short and full length animated films from Disney Animation Studios and Pixar Animation Studios and lets you check off the ones you've watched.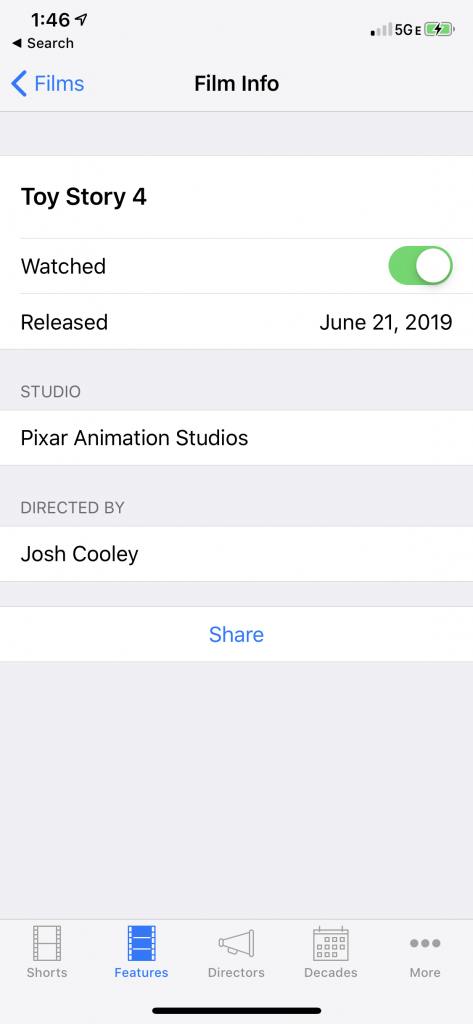 I wrote about the creation of WALT shortly after I released it back in 2012. (Was that really about seven years ago? Wow!) A heads-up if you are thinking about paying 99 cents for the app, I do intend to make it a free app and add a tip jar. However there are many other things ahead of that on my to-do list, so I can't tell you exactly when that will happen.
As mentioned in that original article, one inspiration for WALT was the The Walt Disney Family Museum (WDFM) in San Francisco. I have been a member since it opened ten years ago. The location is beautiful, in the Presidio with a view of the Golden Gate Bridge. And I find the museum and the story that it tells to be inspirational.
Fantasia Talk at The Walt Disney Family Museum
In addition to the exhibits at the museum, one of the things I enjoy most are the programs that they have throughout the year. In the past I have seen many great talks that speak to the creative process. For instance last year, I saw Brad Bird speak about his experiences working with classic Disney animators. I've seen animators Andreas Dejas and Floyd Norman talk about their time at Disney. And I've had the chance to see original Imagineers like Alice Davis and Marty Sklar.
Tomorrow I'll heading up to San Francisco to see a talk by composer Fabrizio Mancinelli called The Beauty and Legacy of Fantasia. I've always enjoyed and been fascinated with the way animation and music can work together to achieve an effect and look forward to hearing what I believe will be an interesting perspective.
That's A Lot Of Candy
In feeling like a kid in a candy store, June 2019 is not just some quaint little corner candy store. It's been a giant store with aisle after aisle of classic candies, exotic candies from faraway places, and brand new candies you had never even heard of before.
With all of this intellectual and experiential candy, I hope I do not get the psychological equivalent of a bellyache. But even if I do, it has been a very memorable and enjoyable month so far. •
---
Categories: Apple, Disney, Software Development, iOS, macOS