June 1, 2023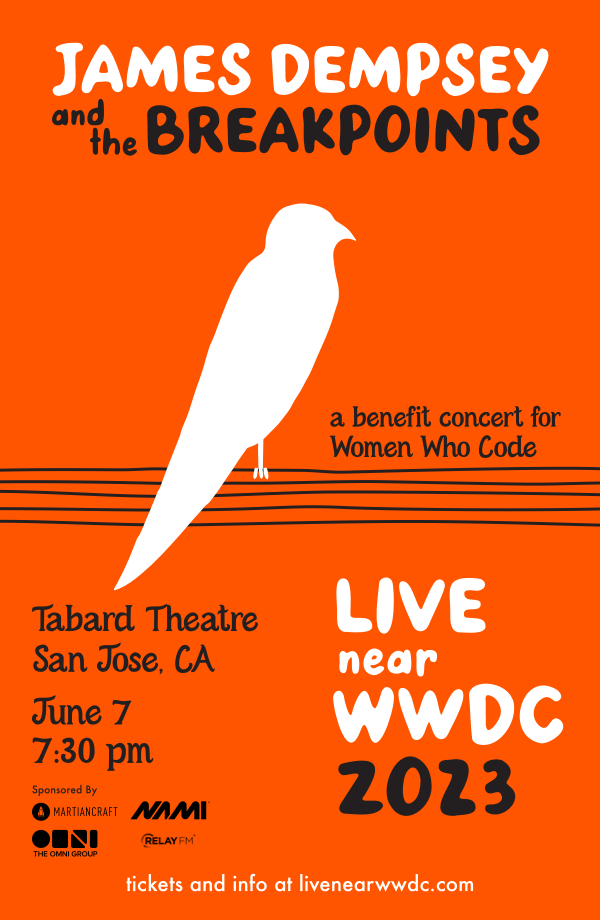 With less than a week until LIVE near WWDC 2023, we've been gearing up for an evening of music, laughter and fun that we think folks are going to really enjoy.
Across multiple timezones, over a dozen Breakpoints have been rehearsing nights and weekends in preparation for our first WWDC-week concert in four years.
Tickets for the event have already sold out, but it looks like we may be able to do a bit of rearranging to accommodate a few more attendees.
In the next day or so, we will be contacting people on the waitlist to give them a chance to purchase tickets.
Join the waitlist and we will notify you as tickets become available.
NOTE: Click the "Get tickets" button on the event page to get to the "Join Waitlist" button.
We're all very excited to bring back this WWDC tradition and hope you can join us in person or at our livestream event online!
Join Us Online For The Livestream Event
For the first time ever LIVE near WWDC will be live-streamed so you can be part of the fun no matter where on the planet you happen to be!
The event will be streamed on our YouTube channel. If you subscribe to the channel, you can turn on a notification so you don't forget to come back for the show!
The online event starts at 7:30 pm Pacific on Wednesday, June 7th.
Chat with others in the community
In addition to the livestream, we'll have chat open before and during the event. It's a great way to catch up with folks in the community and maybe make a few new friend as well.
The chat will be hosted by Breakpoint trombonist Steve Hayman. Possibly some other Breakpoints will drop by as well.
Please feel free to spread the word and share the event link with as many people as you like!
2023 Show Poster Revealed!
This LIVE near WWDC 2023 show poster is a visual answer the question, "What if our favorite avian programming language icon decided to perch, relax for a while, and groove to some music?"
Some fun facts about this year's poster:
The poster sytle was inspired by the original concert poster for Woodstock.
Not every Swift programmer realizes that there really are birds known as swifts.
The tradition of LIVE near WWDC show posters goes back to 2017 when WWDC moved from San Francisco back to San Jose.
The poster's style and color scheme were both suggested by Adrian Eves. Thank you Adrian!
Show posters (11" x 17") will be on sale at the event with all proceeds going to Women Who Code. If you're a VIP ticket holder, we already have you covered, one is included with your ticket.
I'm really happy with how this year's poster turned out—which is good since it will probably be hanging on my wall for the next few decades. I hope it catches your eye as well!
Looking Forward To A Big Night During A Big Week
Next week is promising to be an exciting WWDC full of announcements and almost certainly some surprises.
And for Wednesday, June 7th, we've been working on a show we hope you'll really enjoy.
Talking with members of the band over the last few weeks, we are incredibly excited and grateful to be able do this show again; happy to be supporting Women Who Code; and very thankful for the support of our sponsors.
We all hope you can join us on Wednesday night for LIVE near WWDC 2023, whether in person or online. •
---
You can always find the latest news about LIVE near WWDC at https://livenearwwdc.com.
And speaking of sponsors—our sponsors make this show possible. Everyone involved in this event, from planning to performing, sends an enormous thank you to our sponsors for their support. Please support our sponsors by clicking through the links below and checking them out!
Gold Sponsors
Silver Sponsor
---
Categories: Apple, Mac, Music, Software Development, iOS