WWDC in San Jose: Full Circle
June 2, 2017
Next week's James Dempsey and the Breakpoints concert is especially meaningful to me. It circles back to the literal spot where it all began.
I've now been writing and performing these funny, nerdy songs about software development for sixteen years.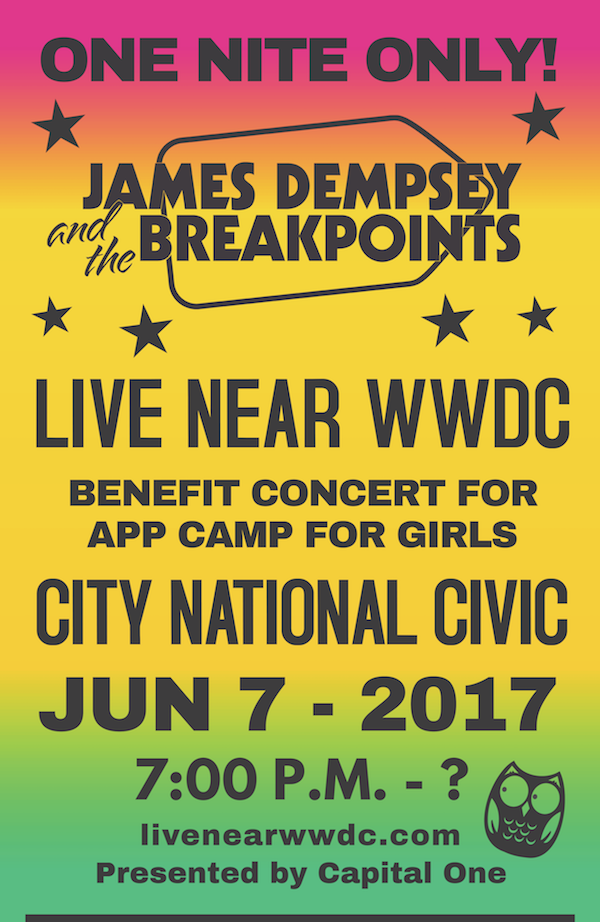 It started in 2001. WWDC was held in San Jose and I was working at Apple. AirPods, iPhones, iPads, Apple TV, and Apple Watch did not exist. Event the first iPod would not be released until later that year. It was a different world.
The previous year, I had given my first WWDC presentation ever. The presentation went well, but speaking to a cavernous convention center room, it also felt a little dry.
While leaving the parking garage that night, a thought occurred to me: Wouldn't it be funny if someone pulled out a guitar at the end of a session and played a little song to sum things up?
The thought stuck with me and over the next year I wrote a song1. The track manager thought it would be a fun way to close the session I was giving, so performing the song was a go.
I was expecting I'd be performing this song in a convention center room.
I could not have been more wrong.
That year, there were so many WWDC sessions that some were held across the street at the City National Civic theater. The CNC can seat thousands of people. Legends like Bob Dylan, The Rolling Stones, The Who and countless others have performed there.
As for me, I had never performed an original song for an audience before.
I had never even played guitar in public before.
Some people might have some friends come out to a coffee shop for an acoustic open mic night to make their performance debut. Somehow, I ended up making my debut in a 3,700 seat auditorium in front of a few hundred colleagues and developers.
I was a nervous wreck.
As I was wrapping up the session, I pulled out a guitar2 and told the audience, "I've never played guitar in front of an audience before, so it might just suck to be you."
Fortunately the crowd kindly overlooked my musical errors and the song met with an enthusiastic response. From there, a song at WWDC became a yearly tradition until I left Apple in 2011. Since then, we've gotten to play more than one song in a row at the yearly LIVE near WWDC show. And it all started on the stage of that big hall in San Jose.
It is hard to convey how much it means to me to be performing at the City National Civic again.
Sixteen years ago, I faced my fears and stepped onto the stage alone to play a song as a humorous closing of a technical talk.
Next week, I'll be returning to the exact same spot, backed by a full band, to perform a full concert of songs to raise money for a great cause.
If you are in town for WWDC week or if you live in the area, I invite you to come out for the show next Wednesday night, June 7th. No WWDC ticket is required, and it's an all-ages show, so folks under 21 are welcome. The show is located directly across the street from the San Jose convention center.
The show is shaping up to be a lot of fun. I hope you can make it out to benefit App Camp For Girls and also to help celebrate this full-circle homecoming concert—for me it is very special and I'd love to see you there. •
---
James Dempsey and The Breakpoints, LIVE near WWDC
A Women@WWDC benefit for App Camp For Girls
presented by Capital One
Wednesday, June 7th, 7:00 – 11:00.
Event information and tickets
Can't make the show but still want to support App Camp For Girls?
Click the Make A Donation button in the Buy Tickets section of the event page.
---
1  It was The Fetch Spec Song, about technologies now faded into to the mists of history: WebObjects and its object persistence framework, the Enterprise Objects Framework (aka EOF). ⏎
2 It wasn't even my guitar, it was an indefinitely borrowed guitar⏎