Breakpoints Recap WWDC 2014
June 11, 2014
There was no WWDC ticket for me this year, but it was still a very enjoyable and busy week for James Dempsey and the Breakpoints. Here are some of the highlights from last week in San Francisco.
(Interested in the soon-to-be-released James Dempsey and the Breakpoints album?
Sign up for email updates so you don't miss out on the fun!)
NeXTEVNT Cartoon Art Museum Fundraiser
In its third year, this fundraiser celebrates the heritage and history of NeXT, featuring black hardware as well as OPENSTEP and NeXTSTEP running in virtual machines. Even more fascinating is meeting up with folks who lived and breathed this platform from its early days—building apps with the frameworks that would evolve into Cocoa and Cocoa Touch.
As part of the evening's entertainment, we played a short set of songs in support of the Cartoon Art Museum. If you are a fan of any sort of comics, cartoons, animations and the like, check it out next time you are in San Francisco. If you couldn't attend the event during WWDC, you can still donate or join as a member.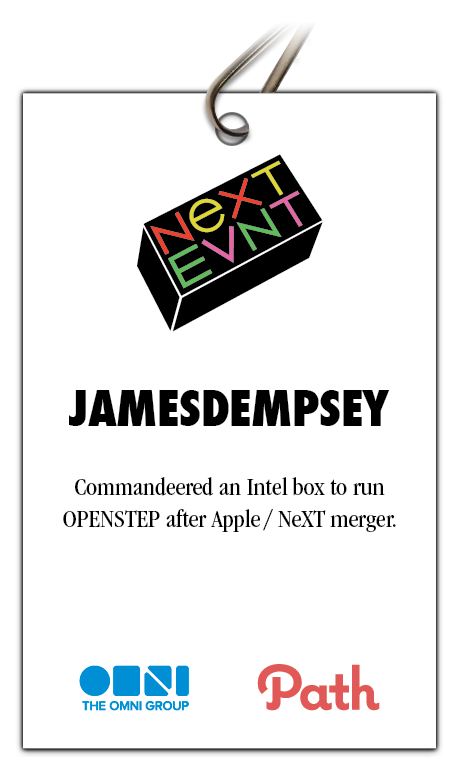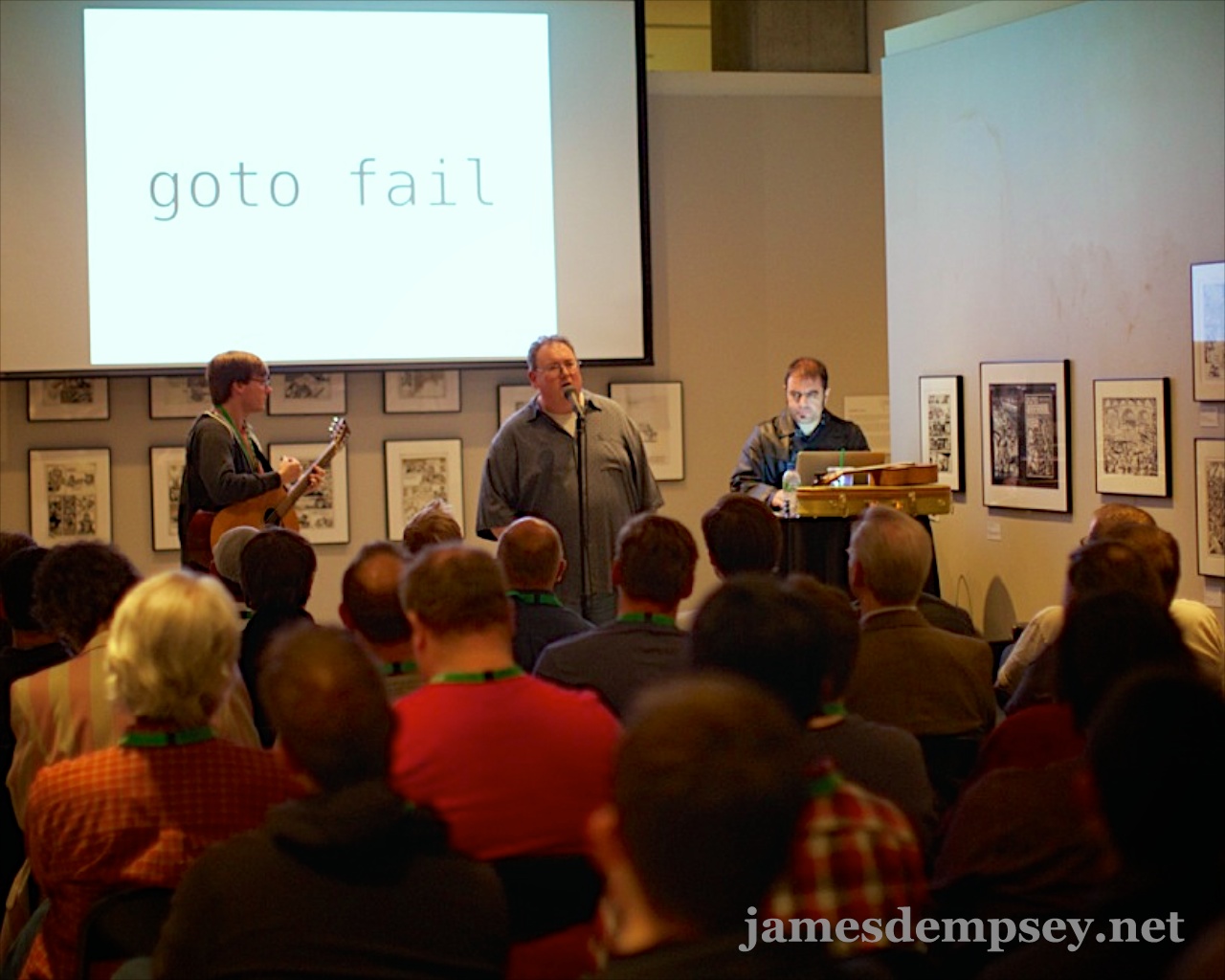 LIVE near WWDC 2014
We had a great time on Wednesday night at 50 Mason Social House. The house was packed as Breakpoints from six different cities in five different time zones across two continents took to the stage to perform a show chock-full of Cocoa-inspired songs.
The evening served up an acoustic guitar sampler with a flight of Breakpoint guitarists—Nathan Eror (@neror) of Martian Craft, Jonathan Penn (@jonathanpenn) of Cocoa Manifest, and Ben Scheirman (@subdigital) of NSScreencast.
The show marked the debut of The Breakpoint Horns with Sam Davies (@iwantmyrealname) of Shinobi Controls on trombone and Daniel Pasco (@dlpasco) of Black Pixel on trumpet playing on Modelin' Man.
(Any tenor sax players out there for next year? Please let me know.)
The talented Mr. Pasco also played electric guitar on that modern tale of momentary loss and redemption, Almost Dropped My iPhone. Conditional Breakpoint Uli 'Object Alloc' Kusterer (@uliwitness) of Elgato joined in with The Liki Song chorus. And of course, slide-advance keyboard legend Victor Alexander (@victoralexander) was on hand to keep that space bar hoppin'.
Thank you to all of the Breakpoints and also a big thanks to: Luke Scholefield (@lukescholefield), Adam Tow (@atow) and Rae and for taking photos and video; Daniel Steinberg (@dimsumthinking) for recording sound off the board; and James White (@thecolourfool) for running the merch table.
(For more fantastic photos of the show—check out Adam Tow's photo journal.)
Finally, an enormous thanks to everyone who came out to the show — your support is what keeps this going.  We had a great time this year and hope you all did too!
The Breakpoints (Sam Davies, Ben Scheirman, Daniel Pasco, Jonathan Penn and Nathan Eror) before the show.
Photo by Victor Alexander

James sings a little ukulele song about 'Anti-Patterns'—the code that you write when you're writing it wrong.
Photo by Adam Tow

Nathan 'NS' Eror, Uli Kusterer and Jonathan Penn lend their voices to The Liki Chorus—demonstrating that memory management and Hawaiian songs do mix.
Photo by Adam Tow

Nathan 'NS' Eror playing some serious guitar on 'I Love View'
Photo by Luke Scholefield

The ever-photogenic Jonathan Penn on guitar
Photo by Luke Scholefield

iPhones raised high to show support for @jorbsd
Photo by Adam Tow

The Breakpoint Horns in their debut appearance! —Sam Davies on trombone and Daniel Pasco on trumpet.
Photo by Adam Tow

Ben Scheirman about to launch into the last song of the show, 'Hold Me, Use Me, Release Me'.
Photo by Luke Scholefield

It's the 'Designated Initializer' not Khan that got the better of James.
Photo by Adam Tow
A Look Back at Alt Conf
On Friday, I presented A Look Back the closing session for Alt Conf 2014.  With the surprise announcement of Swift earlier in the week, the talk took a look back to the beginning of the Objective-C era at Apple, tracing how technologies of that time have evolved into the environment we use today.  To accompany this look back, the talk also featured the first public preview of tracks from the soon-to-be-released James Dempsey and the Breakpoints album.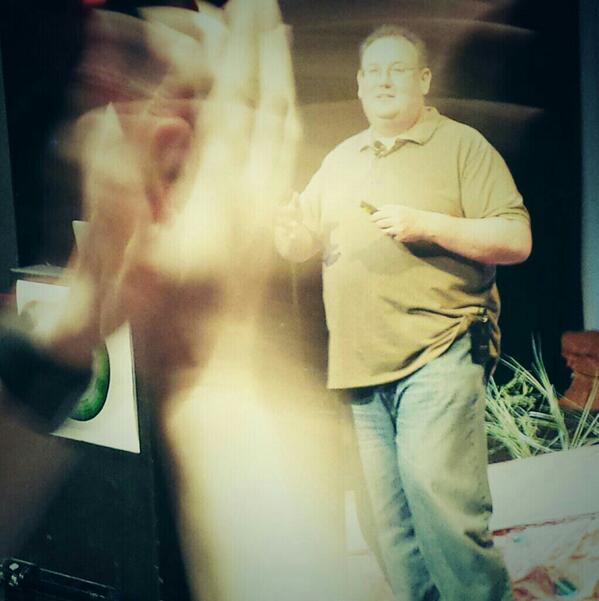 Thank You
The technology announcements of WWDC 2014 will have repercussions for us as iOS and Mac developers for many years to come.
Beyond learning about new technologies, the week gives us a chance to gather together and talk, to share ideas, some laughs and perhaps one too many drinks.
Thank you so very much to everyone who came out to see the talk and performances. Your support and feedback is greatly appreciated and means a lot to me—it was fantastic to meet so many folks this year.
With WWDC 2014 now in the past, it is time to turn my attention to finishing up the album and getting it out into the world.  Someone we are all familiar with said "Real artists ship" and that is my next order of business. •
(Interested in the soon-to-be-released James Dempsey and the Breakpoints album?
Sign up for email updates so you don't miss out on the fun!)