Life Without WWDC
April 18, 2014
[Update: This post was written in 2014 — but holds true for WWDC 2015. As for me, I didn't try to get a ticket this year.
I will be in San Francisco during WWDC 2015 week:
Prepping for the big James Dempsey and the Breakpoints show — tentatively set for Wednesday night, June 10, 2015. (save the date!)
Speaking at AltConf at the end of the week.
Watching keynotes and sessions as they are released__.
Conversations with friends old and new.]
In some ways, the Apple Worldwide Developers Conference (WWDC) has not changed very much since the first one I attended in 1996.  The format is essentially the same. The conference kicks off with a keynote followed by a week of technical sessions, labs and evening events.
But the last few years have brought a major change that has caused me to reshape how I think about WWDC, and unfortunately, how to live without it.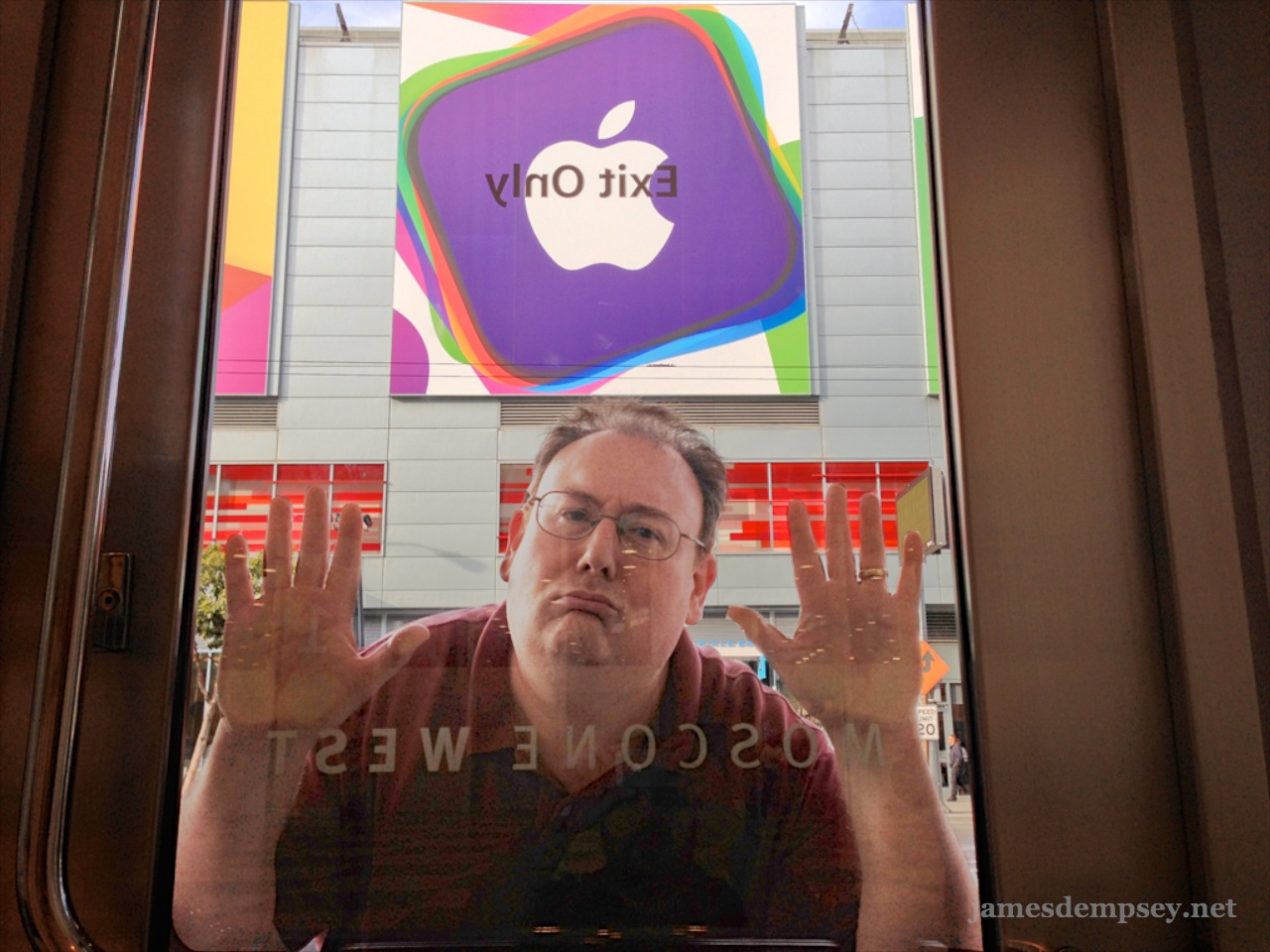 Since the inception of WWDC, if you were a dedicated developer for Apple platforms, you were at the conference.  And, up until 2011, if you considered attending WWDC to be a must-have part of being an Apple developer, you had at least a week to get a ticket.  If you were reasonably vigilant, you were in.
But in recent years, with the demand for tickets far outstripping supply, you can't think about WWDC as a must-have part of your life as an Apple developer.  By necessity, you have to think about going to WWDC as a nice-to-have. That is a big change.
Once something changes from being dependably available to rarely available, you begin to form alternate plans and take alternate paths.
Not whining—just reality
First, I want to be clear that this is not a complaint.  I think it's fantastic that there is so much interest in the platforms that I enjoy using to build apps.  But a new reality has arrived and so I needed to adjust.
Last year, I spent WWDC week in San Francisco without a ticket. I had an enjoyable and productive time last year and so I'll be up in the city again this time around as well.
So how has a long-time DubDub-er been dealing with being outside the building? Read on…
Beyond WWDC
One key was thinking about what WWDC provides and figure out how to meet those needs in some other way. For me, that boiled down to:
Sessions
Labs
Social Events / Networking
Sessions
I find sessions to be a very valuable part of WWDC.  Especially for a new technology or API, that session often provides not just technical information, but also some insight into the philosophy behind the technology, which does not always make its way into formal documentation.
Last year, Apple did an amazing job of posting session videos the same day of the presentation.  I hope this year to be the same. [WWDC 2015 Update: Apple will be streaming select sessions each day, in addition to releasing session videos]
In fact, watching session videos at home or in a hotel room is arguably a better experience than waiting in long lines and sitting in tightly-packed conference chairs.  Last year, for instance, instead of getting up early Monday morning and standing in a giant line for the keynote, I slept in and watched the keynote from my hotel room.
Plus, I didn't feel guilty that I was somehow 'wasting' my ticket by not being in the building.
So, for sessions, I am completely at peace with not being at WWDC.  Apple has done a great job of making the technical information from the conference rapidly available.
Labs
Labs have always been one of the most valuable aspects of WWDC.  They provide developers with sit-down consultations with Apple employees. There are three types of labs: Technology Labs, the User Interface Design Lab, and the App Store Lab.
In the Technology Labs, you can bring your code and talk one-on-one to Apple engineers (often the very engineers working on the technology you are asking about).
Unlike session presentations, labs do not scale well.  There are only so many engineers and most of the year they are doing engineering, not manning labs.
As a substitute for Technology Labs, consider using Tech Support Incidents.  You receive two as part of the yearly $99 developer program fee—additional incidents are available for about $50 each.
With a Tech Support Incident, you can ask a code-level question that is answered by a Developer Technical Support (DTS) engineer.  I've talked with folks who have used the service and they report good results overall.  One caveat is to not expect an immediate answer, researching and replying to your issue can take a few days.
Using DTS is not an exact substitute for sitting down face-to-face with an Apple engineer, but it is a reasonable and more scalable substitute.  (You also don't have to wait until WWDC to ask your question.)
As far as I can tell, however, there is currently no substitute for the User Interface Design Lab or the App Store Lab. These resources seem to be exclusive to WWDC.
In my first year as an independent developer, sitting down with someone at the App Store Lab clarified a number of things for me. I found that brief interaction to be very valuable.
It might help developers to have the ability to get these sorts of consultations done outside of the scope of WWDC.  I would be willing to pay for support in a manner similar to DTS to get these additional services during the year.  At present, though, you need to make do without these two labs.
Social Events / Networking
Apple sponsors its own WWDC events such as Stump the Experts, the Apple Design Awards and the Bash—but there have always been a myriad of outside parties and events during the week.  With so many developers converging on San Francisco without a WWDC ticket, it seems that number has grown in the past few years.
Last year, I found that there were plenty of events and parties that did not require a WWDC ticket, and this year seems to be shaping up the same way.
During the day, AltConf is a free conference with speakers all week, right near WWDC itself.  Last year it was a great place to see some live sessions, meet up with folks and hang out in their lab.  In past years, some local developers have also opened their offices up as gathering places during the week.
The evenings are filled with enough events and parties that there is at least one app and one website for tracking them. [Update: These have yet to be updated to show WWDC 2015 events, I would imagine that would happen in the coming weeks or days.]
My personal favorite event during the week is, of course, the James Dempsey and the Breakpoints show.  For the last two years, we've had a lot of fun playing a free, full concert of iOS and Mac development tunes to packed houses.
PLUG: This year, on Wednesday night during the conference, James Dempsey and the Breakpoints will be LIVE near WWDC 2015.  Sign up for email updates for forthcoming details about the show, new songs and recordings.
From a social perspective, there is a lot going on WWDC week that does not require a ticket.  Last year, I definitely felt my need to network and talk with others was very fully met.
Wrap up
Being prepared for life without WWDC is the new reality.  Both Apple and the development community have provided resources to make a WWDC week an enjoyable and productive time to be in San Francisco, even without a ticket.
I'm looking forward to being up in the city for the week. If you come to town with or without a ticket, please say hello if you see me and come on out to the show! •
Don't miss out on the fun!
Join our low-volume email list for James Dempsey and the Breakpoints show details and music releases.
---
Categories: Mac, Software Development, iOS