Recording at The Annex
April 3, 2012
In the coming weeks, James Dempsey and the Breakpoints will be recording our first album at The Annex in Menlo Park, a Silicon Valley studio with a long and storied 35-year history.  As we get ready to do so, I wanted to describe the setting and share a little bit about why I find this place particularly special for the project ahead.
The gold records lining the walls highlight the long list of artists and celebrities The Annex has welcomed a over the years.  Windham Hill artists such as George Winston, plus many others including Joan Baez, Chris Martin, Alan Parsons, and Michael J. Fox have spent time in the studio, working on everything from recordings and rehearsals to videos and voice overs.  Even Steve Jobs came in once to do a quick voice over. There is an awesome vibe just walking into the place.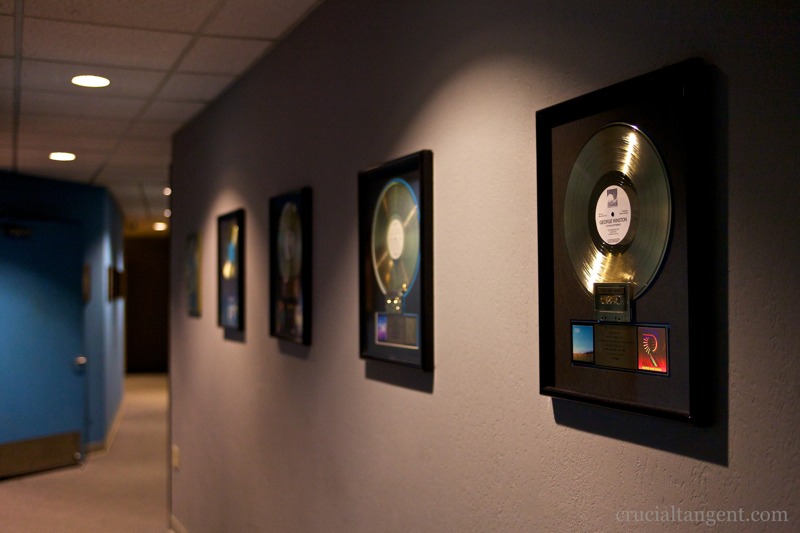 But the physical studio is only part of the story.  We're very fortunate to have Russell Bond recording and producing the sessions.  Russell was part of the crew that originally built the studio and now has come full circle as the owner.  He has decades of recording experience and is a longtime Mac user who immediately clicked with the geeky fun found in the songs.
Talking with Russell, I discovered that he came of age as a producer right alongside the Mac and digital recording.  In those early days, The Annex served as a software proving ground for audio pioneers like Opcode and Digidesign.  Engineers would drop in from their nearby offices to test their early betas in a working studio.  Today, the studio is filled with modern Macs handling the production duties—a fact likely appreciated when original Mac evangelist Guy Kawasaki recently came in to record excerpts from his latest book.
When old Mac-heads get together, the conversation seems to eventually turn to the first time you used a Mac—that electric moment when you realized that your world had just changed in a big way.  For Russell, that moment happened when Apple was recording "Guided Tour" cassette tapes at The Annex to teach users how to use the amazing new mouse-driven interface.  Unable to resist, Russell snuck a prototype Mac 512K home for the weekend, pulling all-nighters playing with MacPaint.
For me, it was my college roommate's Mac Plus.  My freshman year found me completely mesmerized by the bitmapped wonder of it and very lucky to have a roommate willing to let me use it for countless hours.  (For someone who never used an early Mac, it is hard to explain the profound joy that I experienced the day that my roommate bought an external floppy drive.)
When I started looking for a place to record, I wanted to find a great studio and someone who was not only excellent, but who would also really get into the spirit of the project.  So, I am incredibly excited about the environment we will be working in, not only the fundamentals of the studio facilities and recording expertise, but also the feel of the place with its great history and Apple connections.
---
Category: Music